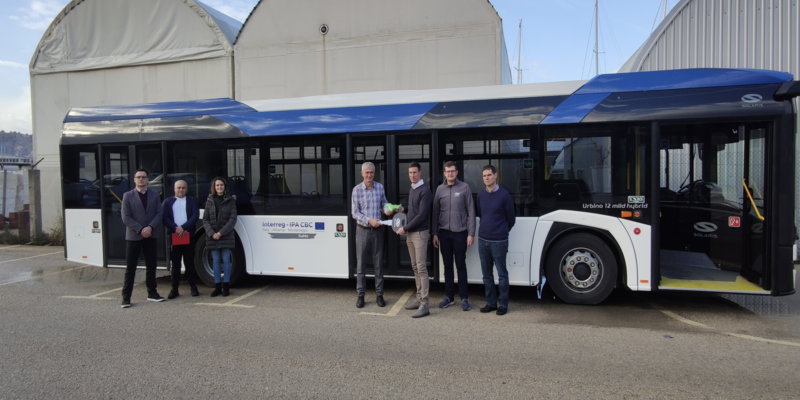 Hybrid bus delivered to the port of Bar
Overview
A handover of a hybrid bus SOLARIS Urbino 12 mild, total length 12 meters, was carried out today in Port of Bar JSC. The bus has 29 seats and 72 standing places, it has diesel-electric propulsion, modern air conditioning, three double doors, cameras for monitoring the interior and other modern equipment. The services of the hybrid bus will be used by workers, guests and other visitors in the Free zone of Port of Bar. The value of the hybrid bus is €277.000,00 and the EU co-financing is €250.000,00. The purchase of the hybrid bus is in accordance with the Action Plan for a sustainable and low-carbon Port of Bar (Green Plan of the Port of Bar).
It is a modern bus model with new technologies and the company Solaris (Poland) has secured orders for almost 70 vehicles of this type so far. Before Port of Bar JSC, this company concluded contracts with the following cities: Hanau (Germany), Lodz (Poland) and Vienna (Austria). Port of Bar JSC is modernizing its fleet by purchasing the hybrid bus, thus the company is taking a big step forward in further greening the port as the bus will replace the use of hundreds of private cars for transport in the port area. Following the development trends and future changes, which must be in accordance with environmental protection and preservation measures on one hand, and sustainable development of the port on the other, "Port of Bar" JSC is contributing to reduction of greenhouse gases and the negative impact of other air pollutants with the support of the European Union.
Port of Bar JSC is currently implementing the SuMo project (Sustainable Mobility in the Port Cities of the Southern Adriatic Area), under the auspices of the Interreg IPA CBC Italy-Albania-Montenegro Programme, with the total budget of €1.079.535,00, out of which the EU co-financing is €917.604,75 € (85%). The partners who participate in the project, besides Port of Bar JSC, are: Public Transport Company Brindisi S.p.A. (Italy), Municipality of Vlora (Albania) and Municipality of Termoli (Italy).